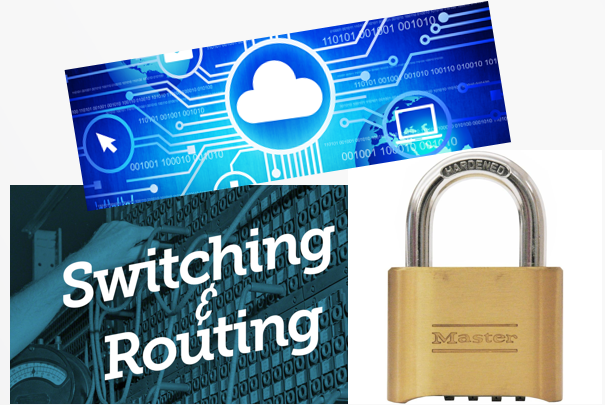 Cloud, Security, R&S...what do I do???
I recently had a learner send me the question you'll read below. After sending him my answer I figured it might make for an interesting post for everyone else. And as usual...I'd love to know YOUR feedback on this!!
*********************
(The Question)
I am noticing that CCNA R/S is becoming a common cert. What are your thoughts about Cisco's cloud and security paths? Is there a market in first world countries and can one carve out a niche for oneself in the industry after certifying in these fields? Most people go the R/S route and I have sense that the R/S playing field will start to get crowded.
**************************
(Below is my response)
Cloud and Security are definitely big-deals in the world of networking today. At present, you have two different Cisco-paths you could take to learn these things:


Path-1:
Go through the entire Routing-and-Switching track ending with a CCIE in R&S. By following this path, you are introduced to some Security topics at the CCNA-level, and these topics continue to expand up through the CCIE. However one of the major topics of security (Firewalls) is not covered at all in this track (as well as many other things you'd learn by following the CCNA-to-CCIE Security track). And by following this path, you will be exposed to some Cloud topics, but not until you start preparing for your CCIE R&S Written Exam.


Path-2:
One could start with their CCNA in R&S (which is pretty much a mandatory starting-point) and, after that, branch out into either the Cloud track (with CCNA Cloud and then CCNP...there is currently no CCIE Cloud Certification). Or...one could branch off into Security (which goes all the way up to a CCIE Security).


If I were twenty years younger I would probably pursue a hybrid approach. The need in the industry for people with good, deep knowledge of Routing and Switching won't be going away for a long time. But you won't get that knowledge with just a CCNA...a CCNP in R&S is really the minimum level of R&S you should get. Then, once you have your R&S I would select one-of-two roads:
---If I were really interested in Security, I would start down that path, pursuing a CCNA Security and ultimately aiming for a CCIE Security.
---If I were really interested in Cloud I'd finish my R&S track by getting a CCIE in R&S where I would be exposed to Cloud topics. Then I would go back and pursue a CCNA and CCNP in Cloud.